Northern Clingfish (Gobiesox maeandricus)
Though many fish species live in the challenging environment of the marine intertidal few attempt to hold their station. Crushing waves and continuously changing water levels are just some of the challenges that intertidal animals have to face. The Northern clingfish, whose home is the Northwest Pacific, makes its living in this hostile environment. This little fish uses a ventral suction disc to stick to rough substrates in the intertidal zone so well that it can prey on the archetypal attached mollusk - the limpet.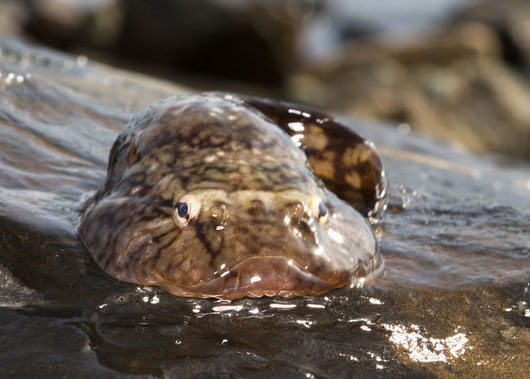 The impact of roughness on suction attachment
This fish sticks better to rough surfaces compared to smooth ones. This is amazing, because in normal suction cups it is the other way around, and man-made suction cups cannot stick to rough surfaces at all. Its ability to stick to rough surfaces can be explained by the morphology of its suction disc.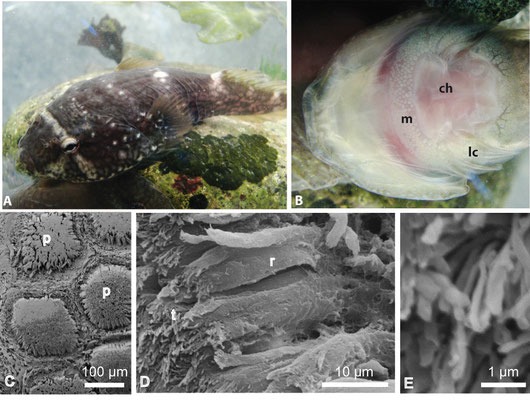 A specialized epithelial microstructure on the ventral surface of the clingfish adhesive disc enables a perfect adaptation of the disc margine to the substrate topography on different hierachical layers. The elastic suction disc is covered with epidermal papillae made of tiny hairlike rods, which are subdivided at the tips into tiny filaments. 
Table 1. Percentage of Northern Clingfish adhering to surfaces of different surface roughness for different size classes
Length of fish
[mm]

Grain size of substrates [µm]

0

35

78

269

500-1000

1000-2000

2000-4000

<60        (N=  2)

100%

100%

100%

100%

50%

0%

0%

60-80     (N=  7)

100%

100%

100%

100%

100%

20%

0%

80-100   (N=11)

100%

100%

100%

100%

100%

100%

9%

>100      (N=  2)

100%

100%

100%

100%

100%

100%

100%
The fish's ability to stick to rough surfaces was explained in a previous study by our group (Wainwright et al, 2013). In the present study, we identify the upper threshold of the surface roughness the fish can cling to, and the effect of biofouling on attachment strength. We tested seven unfouled substrates of increasing surface roughness. The threshold roughness at which Northern clingfish failed increased with specimen size. We hypothesize that because of the elastic properties of the disc margin, a larger disc can adapt to larger surface irregularities. The largest specimens (length 10–12 cm) were able to cling to surfaces with 2–4 mm grain size. The fish can attach to surfaces with roughness between 2 and 9% of the suction disc width.
The impact of fouling on attachment
In aquatic environments solid substrates are fouled by bacteria, algae and invertebrates. A biofilm starts to form just a few hours after a surface is immersed, and the surface becomes more complex and diverse with time. This growth changes the elasticity and surface roughness of the primary substrate, and therefore the attachment conditions for benthic organisms. To investigate the influence of fouling on the adhesive strength of Northern clingfish we incubated surfaces of various roughness for six weeks in the Salish Sea, leading to growth of a substantial biofilm and periphyton. We compared the adhesive force of the fish on unfouled and fouled substrates with four selected roughness's.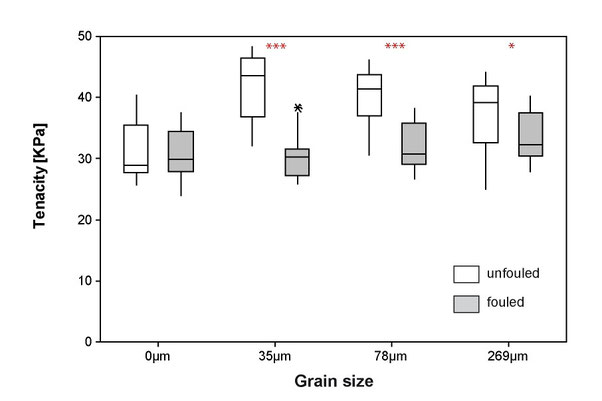 Clingfish were able to attach to both fouled and unfouled smooth substrates with equivalent tenacity. However, the tenacity on fouled, rough substrates was less than unfouled, rough substrates. This decrease may be because the biofilm acts like a lubricant, and lowers friction between the disk margin and the substrate. Nevertheless, even on smooth, fouled surfaces the fish generate impressive adhesive forces about 150 times higher than the body weight of the fish.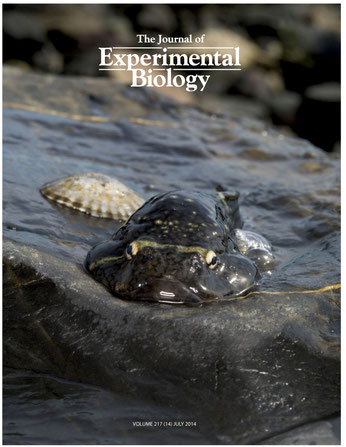 Bio-inspired suction cups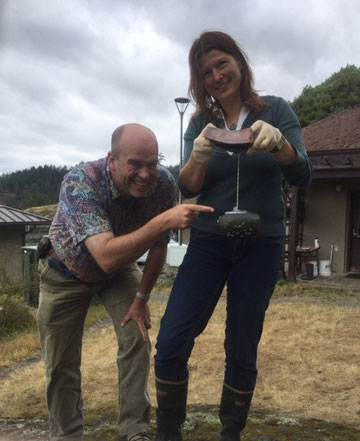 Reversibly attaching to rough and slimy surfaces is an ability, which is highly desirable for some technical applications. We were working on developing clingfish inspired suction cups for about two years before we finally had the first prototype working on rough surfaces in our hands in summer 2016. Transferring the principles of the clingfish's attachment mechanism to technical suction cups, we developed a prototype suction cup, which can do the same as its biological model: attaching to rough and slimy surfaces. Nature is usually too complicated to be replicated 1:1. However, once we have gained the understanding how a biological system works, we can transfer the main acting principles in a simplified technically doable way. In the case of Northern clingfish, this meant for example applying a material with increased friction properties of the disc margin, which avoids or delays failure of the suction cup and finally results in increased attachment forces. The high adaptability of the disc margin is another crucial material property relevant for attaching to rough surfaces. Our bio-inspired suction cups develop tenacities of up to 70KPa on surfaces as rough as 269 µm grain size (roughest surface in the experiment). On substrates of the same roughness the bio inspired suction cups attached several weeks under water in an experimental setting. Our suctions cups could be technically applied in fields such as surgery or whale tagging.